We are proud to include two of our limited-production wines in your September Vigneron Collection shipment: The 2015 Arcanum Valadorna IGT and the 99-point 2018 Anakota Helena Dakota Cabernet Sauvignon.
Along with 2007 and 2010, 2015 will be regarded as one of the best vintages of Valadorna in the last decade. Harvest at the estate began September 10 and finished October 10, the dream window. The wide thermal range between warm days and cool nights produced wines with ripe fruit flavors, vibrant acidity, and explosive aromatics. This Merlot-led blend is sourced primarily from the Valadorna and Capraia blocks, which produce the estate's most complex and mineral-based expressions of this variety. The blocks are located within the cooler part of the estate, are naturally irrigated by the stream that undulates through it and feature sandy brown soils and lower yields.
The 12.4 acre Anakota Helena Dakota vineyard runs southeast to northwest on the eastern side of scenic Highway 128 and possesses slopes of up to 15 degrees. Prevailing westerly winds pass over a large, cold pond and blow uphill, parallel to the rows of vines. These cooling breezes slow down the ripening of the grapes and result in wines that are packed with elegance, complexity and finesse. Replenishing winter rains ushered an exceptional start to the 2018 growing season, leading to a lengthy budbreak and flowering, with nearly perfect fruit-set throughout a cool spring. Warm weather and bright sunshine settled in by June, but the nights remained very cool, and the season progressed without any major heat spikes. These ideal conditions continued well into the fall, leading to even ripening of tannins, sugar levels, and acidity.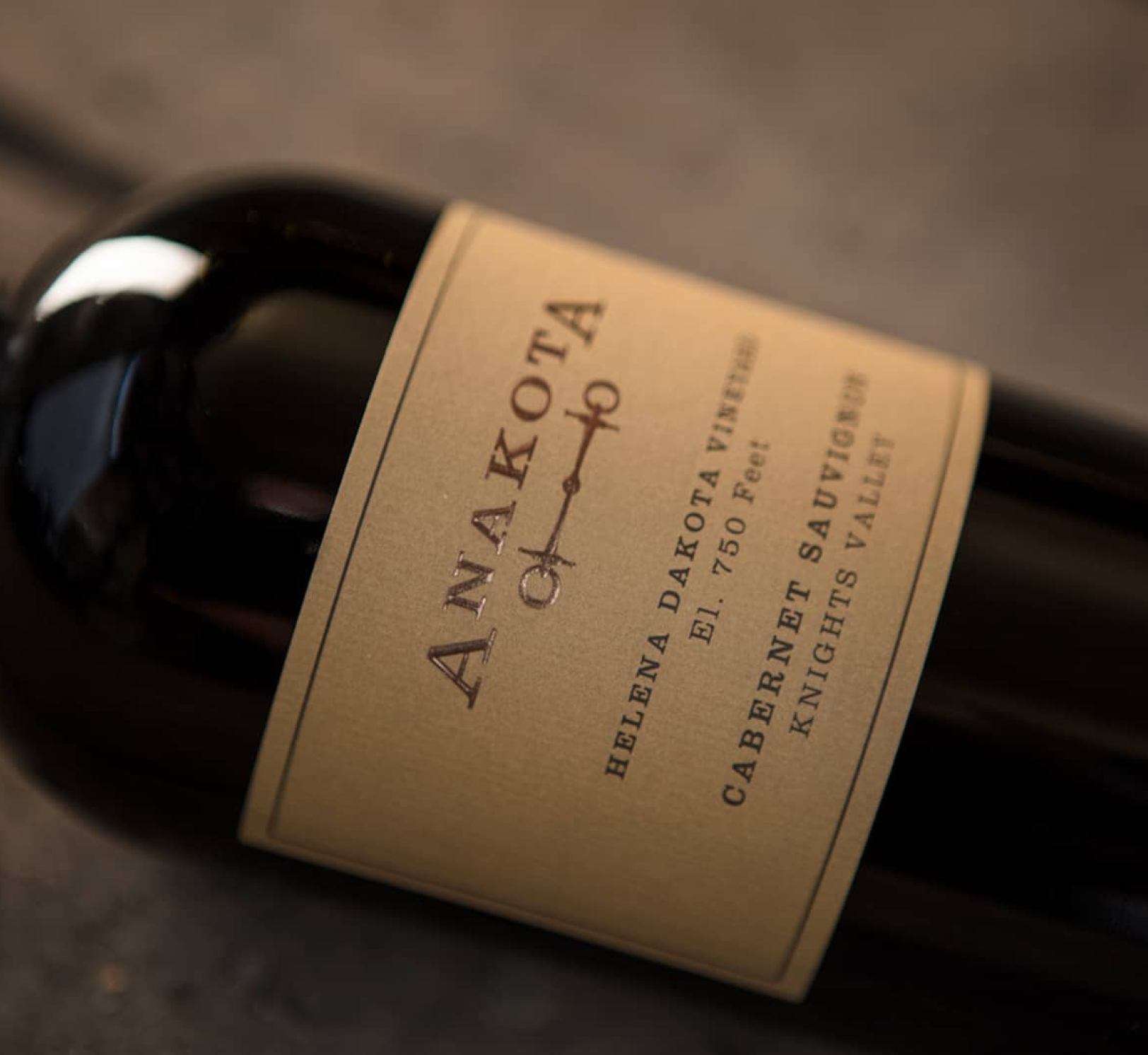 2019
Anakota Helena Dakota Cabernet Sauvignon
Knights Valley, Sonoma County, California
"The 2019 Cabernet Sauvignon Helena Dakota Vineyard explodes with violets, aniseed, and cast iron, with a deep core of crushed blueberries and black cherries, evolving continually with each approach to the glass. The palate is stunning with its intensity and lift, pure fruits, pixelated tannins, and focused acidity that drives the very long finish. Its exceptional balance and super pure flavors, plus that characteristic streak of iron that appears across the Anakota portfolio, really take the 2019 Helena Dakota to the next level."
100% Cabernet Sauvignon
Aged 13 months in French oak (90% new)
99 Points - Erin Brooks, Robert Parker Wine Advocate, July 2022