November 2022 Shipment
Old World and New World "Micro-Cru"
We are delighted to send you two critically acclaimed wines: The 2016 Tenuta di Arceno Arcanum Toscana IGT and the 2018 Lassègue Saint-Émilion Grand Cru. These selections are perfect to usher in autumn and to accompany your holiday feasts. The final blends include the most extraordinary lots and encapsulate the finest reflection of their respective estate terroirs.
The 2016 Arcanum is Tenuta di Arceno's pinnacle offering, a 100% Cabernet Franc wine derived from 12 estate blocks, each with superb exposure on sandy clay soils ideally suited to the variety. The 2016 vintage was expressive and elegant, with ample sunshine and just enough rain to hold off harvest, allowing the fruit to spend more precious time on the vine. The blocks were harvested at separate times, reflecting the estate's diverse micro-climates. Built to age, yet drinkable young, this wine exudes a luscious palate of cherries, wild strawberries, and licorice, followed by hints of cedar and toast.
The 2018 Lassègue Saint-Émilion Grand Cru is a Merlot-led blend, complemented by an ample portion of Cabernet Franc and a touch of Cabernet Sauvignon. The label's iconic sundial symbolizes the estate's perfect sun exposure. Situated on an extension of the Côte de Saint-Émilion, Château Lassègue's old vines grow on hills of clay and limestone soils that add exquisite minerality to the fruit. The voluptuous concentration of the old Merlot vines in this vintage is balanced by the extravagance of the Cabernet Sauvignon, culminating in a wine of elegance and power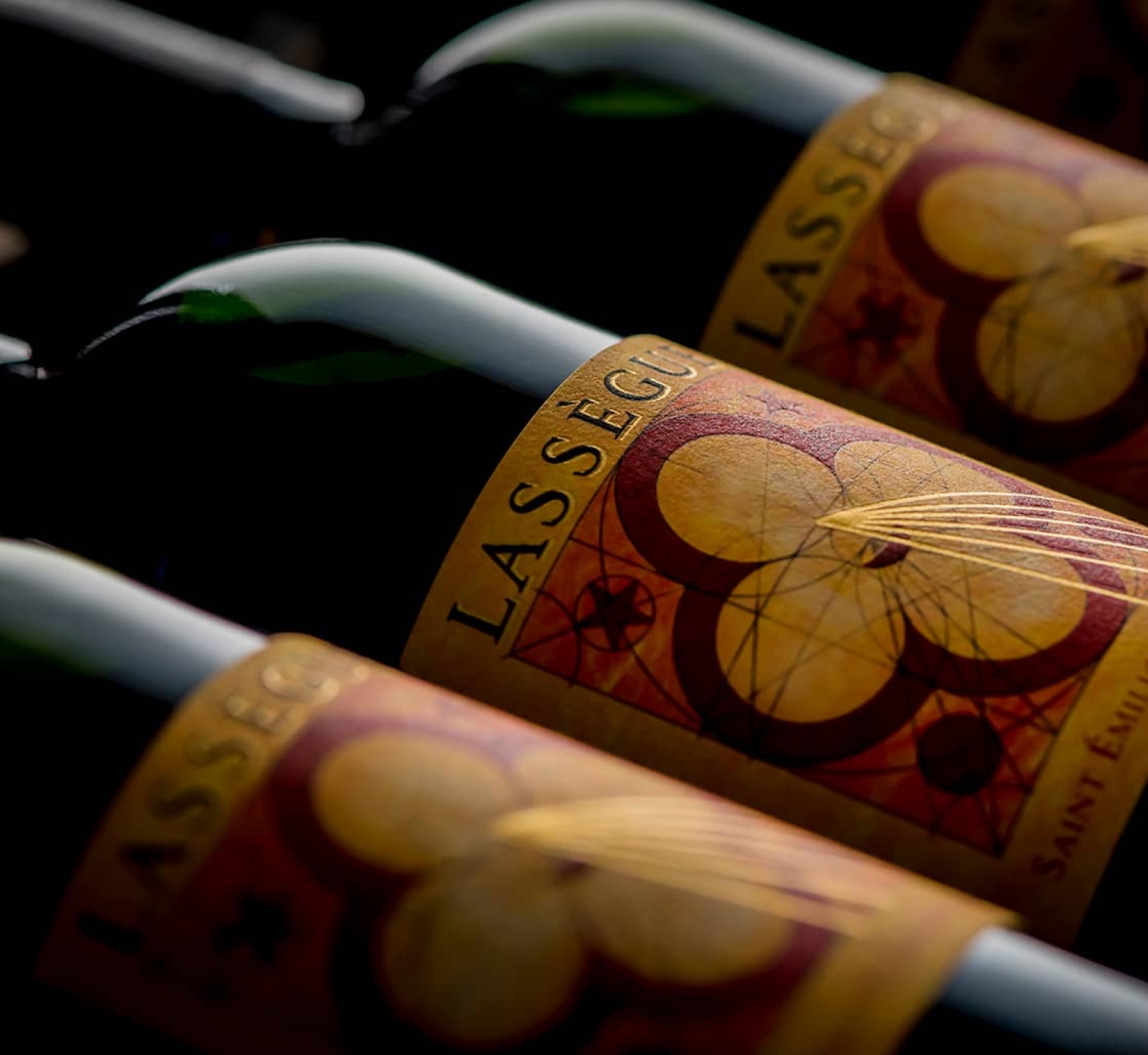 2019
Lassègue Saint-Émilion Grand Cru
Bordeaux, France
The 2019 vintage of Lassègue is characterized by its freshness and purity. The wine shows a beautiful ruby color in the glass, limpid and brilliant. The nose is aromatic and precise, with red fruit that wafts from the glass at first aeration, followed by subtle notes of rose petal and licorice. The palate displays remarkable freshness, elegance and finesse. The attack is dense with a core of ripe red fruit, and
a rich and precise mid-palate leading to a prolonged finish carried by seamlessly integrated silky tannins. The power, balance and minerality of this vintage reflect the complexity of the clay and limestone soils of the Côte de Saint-Émilion. A great vintage that will reach its peak in 15-20 years.
58% Merlot, 32% Cabernet Franc, 10% Cabernet Sauvignon
Aged 12 months in French oak (75% new)
95 Points - Decanter, J.A., June 2021